Recently, the computers of Xiaoxiao units have been attacked by ransomware. More than half of them have been basically paralysed. Fortunately, all of Koji's manuscripts are in good health, otherwise he will drink the northwest wind again this month.
There are feelings, and today we talked about auto and cyber security topics. We do not think that these two things are not worth playing. In fact, your car was already hacked by hackers.
Invasion really super simple
Imagine that you hold the steering wheel and take a deep breath twice. Turning on his wife's phone, quietly telling her that it was a bad thing, to work overtime tonight. Briefly, the boss was inhumane. You hang up and drive up the highway. Staring at the flashing road signs, your heart is magnificent. You are convinced that only you know where you are going.
In the early morning of the next day, you were taken out of bed by your wife and asked if you were going to the airport for an ex-girlfriend last night. You look innocent and try to deny it. Until she turned on the computer to show you the full track yesterday. You bowed your head in shame and saw her hands behind her back, and the cold flash of white blade flashed.
"Brutal wife" slammed you out, inserted an SD card into your VW Touareg console, and gently clicked on the system update. After three minutes, your car system is restarted.
From this moment on, all the GPS information of your car, that is, the trajectory, will be silently recorded by the console. Until the day of the incident, you suspect that your wife inserted the SD card again and downloaded all the trajectories you had this week in only three seconds.
This loophole comes from well-known hackers and security researchers who are "stuck". Today, he and the team announced the successful cracking of Audi A6, A7, Volkswagen Touareg and other models. In the past, hackers had successfully cracked cars, such as Tesla. However, most of the previous cracks were concentrated on "smart cars" that could be networked. At present, domestic sales of cars have all but cut off the networking functions due to policy restrictions.
However, there are also terrible hidden dangers for non-networked cars. The results of this cracking are examples. He and the team bypassed safety verification and obtained the highest authority of the car's central control system. In theory, you can control all the devices on your car such as GPS, stereo, and Bluetooth.
Another example of remote intrusion
Recently, the well-known technology media "Link" published an article on the website to provide a detailed review of the potential safety issues that could result from vulnerabilities in the onboard systems.
"I was driving Cherokee at the speed of 70 yards per hour on the border of Lower St. Louis. Suddenly, the car was out of control. Without touching the dashboard, the Cherokee cooling system began to blow at maximum power. The circulatory system on the back of the seat made my back feel a bit chilly.Then, the radio switched to the local hip hop channel, the volume was turned up to maximum, and the horn sounded harsh music.I turned the control knob to the far left, and kept When the power switch was pressed, everything did not respond. At this time, the wipers also began to make fun and spray cleaners to make the windshield blurred."
This is not the plot of the Hollywood thriller, but the result of directing by two hackers - Charlie Miller and Chris Valasek. Both conducted research on automobile incursions last year and the above results are still expected. These vulnerabilities are referred to in the security field as "zero-day vulnerabilities," and attackers can invade the aforementioned Cherokee models through wireless connections. Their code is exactly the nightmare of automakers: Through software, hackers send instructions through the Cherokee car entertainment system to start various functions on the dashboard, including steering, braking, and shifting, all of which can be easily done with a laptop. Implementation, and the person who launched the attack can be anywhere, just connect to the network.
Simple two examples, does not feel very surprised. Indeed, whether your car is smart or not, hackers can easily invade. But wise, you may think that I and the hackers are innocent and hateful. What is the car that Mao always controls?
Xiao Yu currently thinks of three reasons. I hope everyone can give me more ideas.
First, to show that hackers are very powerful. Brothers can control the car, is not a bunker.
Second, in order to kill people. You're on the outside with someone else. I'm sorry that this way of killing people can be a perfect disguise as a traffic accident, and I just have to pay a bit of money to find a reliable hacker.
Third, stealing cars, stealing accounts, and installing ransom for viruses. Anyway, it is linked to money. The first two reasons are either that nonsense or the probability of occurrence is also minimal. Most hackers still go for money. Now that the vehicle network is more and more developed, the car will immediately become the next smart terminal, and personal privacy of your Taobao account, bank card, WeChat, etc. is likely to be hidden in the car. The hackers are smart enough to use every loophole to attack you and find any way to make money. It may be stealing or maybe robbing. It may be silently carrying a Trojan horse to play a long line to catch big fish.
How to avoid the risk of intrusion
One day, cybercriminals use ransomware to threaten owners to obtain money. However, automakers are slow to respond to this question, lacking initiative, and "usually after an Internet safety investigator publishes relevant information, car manufacturers will respond and try to find a solution."
It is reported that the "Car Safety and Privacy Act of 2015" of the United States was introduced in 2015, but it has not been reviewed by the legislature. Democratic Senator Edward Maki said: "To the end, this is a matter of life safety. When people lose control over the vehicles that may end their lives, this is a big problem."
Did the automakers take measures? It is very urgent to integrate "zero security" in the automotive manufacturing process, but the prospects are bleak.
It is worth noting that the FBI issued a warning on the weak points of Internet security in cars and explained what automakers should do to eliminate this threat.
At present, many vehicles can use wireless devices to achieve internal interconnection and control, as well as external communications such as telephone or laptop calls. The US consultancy IHS Automotive estimates that 55% of new cars worldwide will be connected by 2020, and about half of the vehicles will be equipped with different levels of interconnection.
Connectivity makes cars more valuable to hackers. According to McKinsey & Co., even if the number of connected cars is accelerating, only about 40% of car companies set up departments for cybersecurity, and less than half of them stated that their network security team is fully prepared to deal with hackers. Threatened. Nearly 85% of car companies are rated medium and high because they are threatened by cyber security.
In order to resist hackers, car companies need to continuously monitor vehicle software vulnerabilities and potential vulnerabilities, and be able to eliminate problems through online updates when problems arise. Open communication in the automotive industry will also help car companies find potential loopholes before being hacked.
3.5 ton electric forklift, the loading capacity is 3500kg, with AC motor, Zapi Controller, 80v, 500ah battery charger, 380v, 3 phase 50hz battery charger.
LCD display provides extensive information on truck operation and maintenance state, it with waterproof and shock proof protection. The advanced wiring harness, waterproof connectors and multiunit fuse module ensure the security and reliability of the circuit.
LED lights reduces the energy consumption and maintenance costs.
Steering axle adopts shock-mitigating device, it installs a up and down type steering rod, with simple structure and better intensity and its both ends adopt joint bearing which enhanced the installation hole.
TCM technology brake system which is sensitive and light full hydraulic with a better performance braking.
Shantui products including Diesel Forklift , Electric Forklift, heavy duty forklift, Gasoline Forklift, container forklift, Side Loader , Pallet Truck , Construction Machinery including shantui bulldozer, Wheel Loader , crawler excavator, road roller, generator set, motor grader, truck crane, construction machinery parts, Shantui Parts , Cummins engine parts, komatsu parts, and other machinery parts.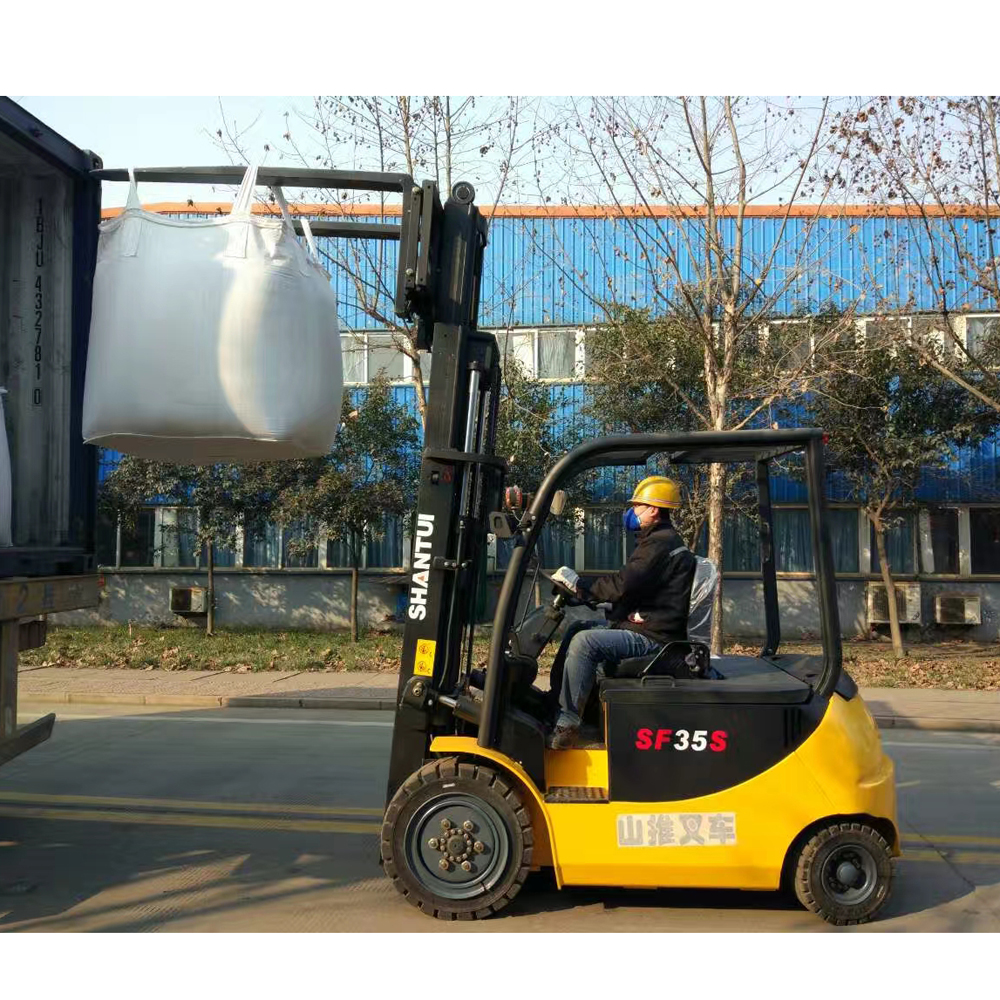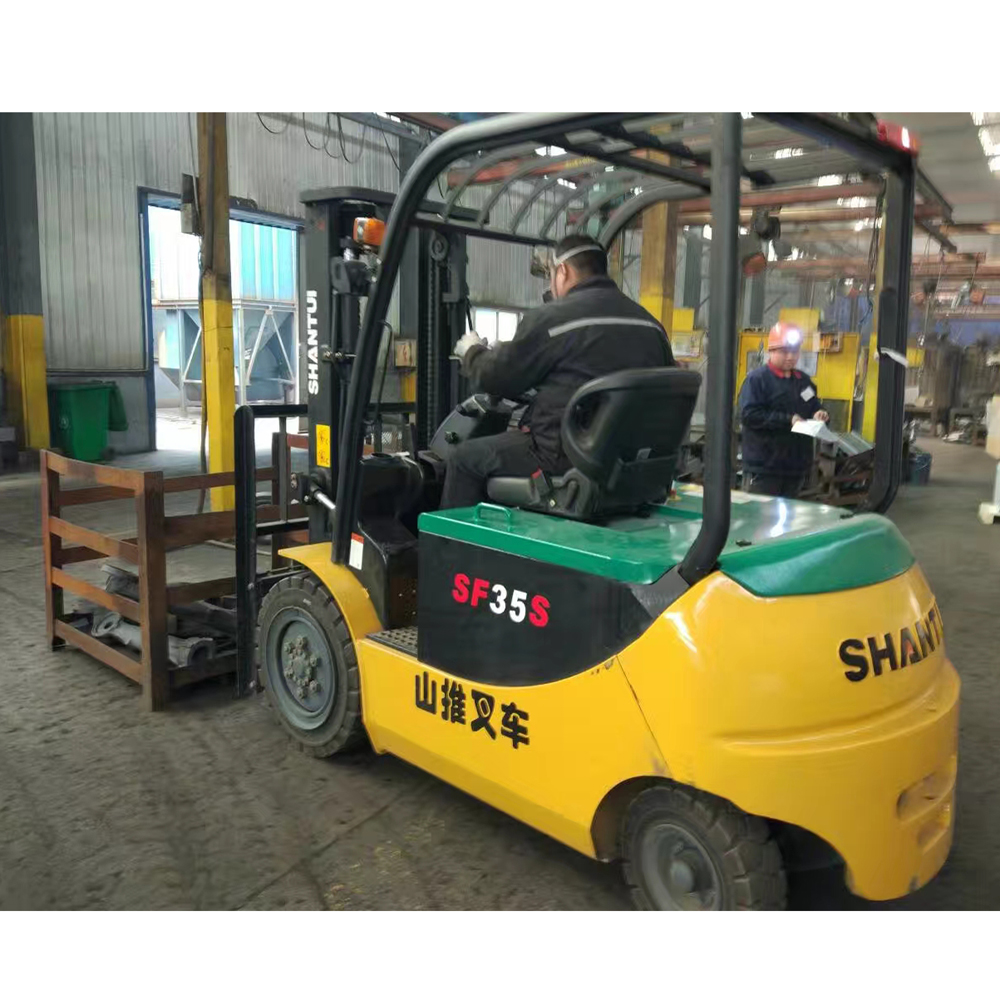 3.5 Ton Electric Forklift,Electric Forklift With Storage Battery,Small Electric Forklift,3.5 Ton Battery Electric Forklift
SHANDONG VOLIN HEAVY MACHINERY CO.,LTD. , https://www.shantuimachinery.com